Strategy & Concept
Which approach is right for your healthcare innovation?
Whether it's innovative forms of care, pharmaceuticals, or digital therapeutics (DTx) – the healthcare system has high regulatory demands on new products and services. Without a comprehensive understanding of the complex healthcare landscape, the relevant players and interests, the legal requirements, and the possible access approaches, it is extremely difficult to enter the market.
With our many years of expertise and our deep knowledge of the structures of the healthcare system, we support you in developing an overall market access strategy for your healthcare innovation.
Our consulting services include:
Assessment of the viability of your healthcare concept and positioning within the regulatory framework of the Statutory Health Insurance (SHI)
Weighing the pros and cons of different market accesses for your health care innovation (innovation fund, DiGA fast track, DiPA directory, selective contract, etc.)
Anticipating critical voices and developing a convincing line of argument (value story)
Proactive, systematic stakeholder management: identification of potential opposition as well as advocates
Identification of possible and necessary partners for your project
Market and competitor analyses
Preliminary ideas for proving the evidential value of your health care innovation (accompanying scientific study)
Development of negotiation strategies concerning remuneration and pricing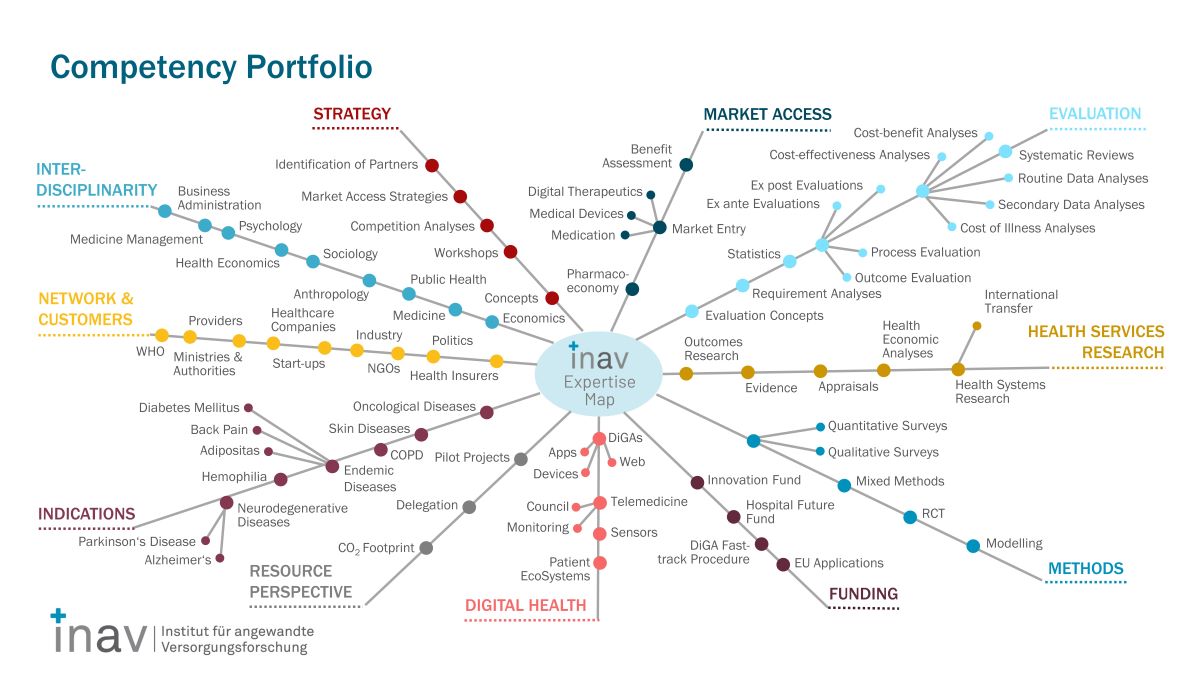 Benefit from our excellent networking in all areas of the healthcare sector
In addition to our extensive methodological expertise, we maintain excellent networks in all areas of the German healthcare system as well as with numerous international organizations. Our clients include health insurance companies, players from the healthcare industry, start-ups, manufacturing companies, service providers, associations, authorities, ministries and the WHO.
We are an authorized consulting company within the funding program go-inno of the German Federal Ministry of Economics and Climate Protection. Get your advisory voucher easily and schedule an appointment with us.

Have you already cleared all the regulatory and organizational hurdles and would like support in the roll-out of your product? Then find out more about our market access services.